Women's World Cup logo revealed; Opals legend Jackson named ambassador
MAY 10, 2021
MIES (Switzerland) - Today marked 500 days before the start of the FIBA Women's Basketball World Cup 2022 in Australia, and to signify the occasion, the official logo for FIBA's flagship women's event was revealed along with the event ambassador.
International basketball and Opals legend Lauren Jackson took center stage by being named the event ambassador for next year's women's world cup. The creation of the New South Wales Legacy Program was also announced.
FIBA Women's Basketball World Cup 2006 champion and four-time Olympic medalist Jackson said: "I feel really honored to be the ambassador for this event. I love this sport so much and I am still giving my life to this sport, but being able to be part of the FIBA Women's Basketball World Cup in a different capacity is such a huge honor."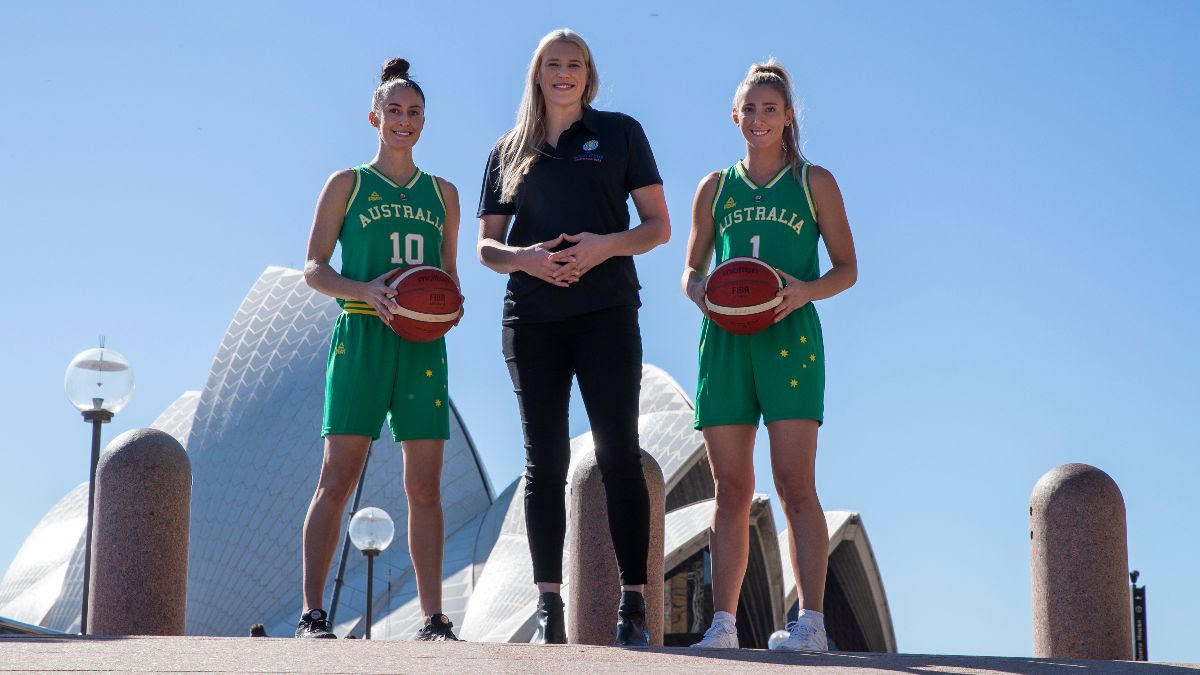 Lauren Jackson,
FIBA Women's Basketball World Cup 2022 Event Ambassador
The event's logo was also revealed today, representing Australia's heritage and spirit of unity in a design inspired by 14-year-old Aboriginal basketballer and artist Amarlie 'Marlii' Briscoe.
Briscoe created a stunning piece of Indigenous artwork titled 'My Story', representing everything she loves in her life, including her biggest loves - 'art', 'basketball', 'culture' and 'country'. These symbols of love from her artwork have been represented within the traditional basketball-shaped logo, which also features the newly launched FIBA Women's Basketball World Cup trophy.
Inspired by Briscoe's painting, the logo was created by VMLY&R Branding, based in Portugal, together with Campfire x, an Indigenous Australian led creative consultancy, and the young artist to transform her piece into the brand that will show the world the FIBA Women's Basketball World Cup 2022.
FIBA Women's Basketball World Cup 2022 official logo revealed
Next year will be the first time the tournament has been staged in Australia since 1994, and FIBA Secretary General Andreas Zagklis was pleased to see the event come to life through the creation of a meaningful brand.
Zagklis said: "FIBA is really looking forward to the world-class city of Sydney again hosting the FIBA Women's Basketball World Cup, 27 years after it was first held in the country when so many legendary players took part. I extend my congratulations to 2006 FIBA Women's World Champion, Lauren Jackson, who will play an important role as event ambassador. Lauren has inspired a huge number of girls not only in Australia but across the world, to play basketball and her contribution to the sport and her achievements are exemplary.
"With 500 days to go, today's milestones and the launch of this unique logo, inspired by a very talented young Indigenous artist, are both exciting steps towards next year's tip-off."
Attending the launch in Sydney, the Minister for Investment, Jobs, Tourism & Western Sydney, The Hon. Stuart Ayres MP said: "I have no doubt the Australian public will be eager to soak up the atmosphere of this world-class sporting tournament featuring the best international female basketballers in Sydney, and I'm sure the participating nations will feel right at home throughout the competition.
"We can't wait to stage this fantastic event as part of the NSW Government's 10 World Cups in 10 Years initiative, which supports our ambition for Sydney and NSW to be the events capitals of the Asia Pacific."
Minister for Sport, The Hon. Dr. Geoffrey Lee MP, announced the NSW government's additional investment to deliver a significant legacy to the people of NSW and basketball as a sport.
Minister Lee said: "With tournament ambassador and basketball legend Lauren Jackson AO having grown up in regional NSW, we have seen first-hand how important it is to provide opportunities across the State to empower participants to reach their potential.
"From delivery of a basketball-specific version of the Daughters and Dads Active and Empowered program, new 3x3 competitions and scholarships for aspiring female leaders in the sport, this investment will ensure people of all ages and abilities will have the opportunity to engage with one of the world's most popular sports."
###

About the FIBA Women's Basketball World Cup 2022
The 19th edition of FIBA's most distinguished women's event, the FIBA Women's Basketball World Cup 2022, will take place in Sydney, Australia from September 22 to October 1. National teams will qualify for the event via four global qualifying tournaments in February 2022.
The FIBA Women's Basketball World Cup 2022 is supported by the NSW Government through its major events and tourism agency, Destination NSW and the Office of Sport.

For further information about the FIBA Women's Basketball World Cup 2022, visit womensbasketballworldcup/2022 or follow FIBA Women's Basketball World Cup 2022 on facebook.com/FIBAWWC, twitter.com/FIBAWWC, instagram.com/fibawwc and youtube.com/fiba.
NBA REFEREE TONY BROWN TO MISS REMAINDER OF 2020-21 SEASON
NEW YORK, May 10, 2021 – NBA referee Tony Brown will not officiate the rest of the regular season nor during the 2021 NBA Playoffs after being diagnosed with pancreatic cancer last month.
"Tony is a beloved member of the NBA family, and in particular, our officiating family," said Monty McCutchen, NBA Senior Vice President, Referee Development and Training. "In addition to exemplifying what it means to be a world class referee on the court, Tony also touches so many lives off the court. The NBA officiating family and the entire NBA family stand behind Tony with thoughts and prayers as he embarks upon this courageous battle."
Brown, who has officiated 1,109 regular-season games and 35 playoff games – including his first Finals appearance in 2020 – in his 19 seasons as an NBA official, has been undergoing treatment since learning of the diagnosis.
Tony and his entire family wish to express their gratitude for the well-wishes, prayers, support and love which they have received over recent days.
NEW ORLEANS' DAVID GRIFFIN FINED
NEW YORK, May 9, 2021 – New Orleans Pelicans Executive Vice President of Basketball Operations David Griffin has been fined $50,000 for public criticism of the officiating and comments detrimental to the NBA, it was announced today by Byron Spruell, President, League Operations.
Griffin made his remarks to the media on May 7.
KYRIE IRVING AND BROOKLYN NETS FINED
NEW YORK, May 5, 2021 – Brooklyn Nets guard Kyrie Irving and the Nets organization have each been fined $35,000 for violating league rules governing media interview access, the NBA announced today. The fines result from Irving's repeated refusal to participate in team postgame media availability.
NBA AND NBPA ANNOUNCE COVID-19 TEST RESULTS
NEW YORK, May 5, 2021 – Of the 492 players tested for COVID-19 since April 28, four new players have returned confirmed positive tests.
Anyone who has returned a confirmed positive test, or has been identified as having been in close contact to an infected person, is isolated or quarantined until they are cleared under the rules established by the NBA and the Players Association in accordance with CDC guidance.
WNBA ANNOUNCES BROADCAST AND STREAMING SCHEDULE
FOR LEAGUE'S 25th REGULAR SEASON
– Regular Season Schedule to Feature 100 National Broadcasts Across
ABC, ESPN, ESPN2, CBS Television Network, CBS Sports Network and NBA TV –
– Google to be Presenting Partner of the WNBA "25 for 25" on ESPN, Including Opening Weekend ABC Doubleheader Featuring MVPs Elena Delle Donne, Candace Parker, Breanna Stewart, and A'ja Wilson –
– CBS Sports Extends Partnership with WNBA with 40 Regular Season Games per Season
under Multi-year Deal –
– Twitter to Stream 12 games and Oculus from Facebook to Stream 20 games –
NEW YORK, May 3, 2021 – The WNBA's 25th season, which will include a 32-game schedule for each team, will feature 100 national telecasts across ABC, ESPN, ESPN2, CBS Television Network, CBS Sports Network and NBA TV.
A link to the current national television schedule, as well as to games to be streamed on Twitter, Facebook Watch, and Oculus from Facebook, can be found here.
Google, recently announced as a premier supporter of the league as a WNBA Changemaker, as well as an Official Technology Partner and the WNBA's Official Trends and Fan Insights Partner, will be the presenting partner of the WNBA on ESPN. Google has collaborated with ESPN and the WNBA to deliver "25 for 25", a 25-game schedule of telecasts across ABC, ESPN and ESPN2 in celebration of the WNBA's 25th season.
In addition, as part of the commitment of CBS Sports to the WNBA, the network and the league, which first partnered in 2019, have announced a multi-year extension of their relationship through which CBS Sports will present WNBA regular season games, including 40 contests this season, featuring up to three games on the CBS Television Network that will also stream live on Paramount+.
NBA TV, now in its 19th consecutive year of carrying WNBA games, will feature 35 games during the 2021 season.
In 2021, the WNBA and partners Twitter and Facebook will continue to deliver programming to fans via alternative live streaming platforms. As Twitter and the WNBA enter the fifth year of their partnership, Twitter will offer a 12-game slate on #WNBATwitterLive, as well as real-time game highlights and post-game interviews. #WNBATwitterLive will also deliver top voices from the sports community and several new ways for fans to engage, including fan Tweets, Q&As, votes and trivia. Facebook, now in its second straight year as a provider of WNBA game action, will present 20 games available on both Facebook Watch and Venues on Oculus Quest.
WNBA League Pass also returns this season offering over 110 games.
"Providing significant opportunities to view WNBA games across traditional and streaming platforms drives expanded coverage to our growing fan base," said WNBA Commissioner Cathy Engelbert. "Our goal is to deliver as many WNBA games and content to our passionate fans and supporters across platforms that best match the evolution of content consumption. Also, we are grateful to Google and ESPN for collaborating on "25 for 25" and we will continue to look for ways to innovate and shape the future landscape of the fan experience."
The WNBA will tip off its landmark 25th regular season in the national spotlight on Friday, May 14, with a weekend of action featuring all 12 teams.
The national telecast schedule gets underway on opening day when NBA TV presents Sabrina Ionescu, the No. 1 overall draft pick in 2020, and the New York Liberty hosting the Indiana Fever and Kelsey Mitchell, the WNBA's sixth-leading scorer last season (7 p.m. ET). Following that game, the action shifts to CBSSN, which will highlight Diana Taurasi, the league's all-time points leader, and the Phoenix Mercury visiting the Minnesota Lynx, led by back-to-back WNBA Rookie of the Year winners Napheesa Collier and Crystal Dangerfield (9 p.m. ET). In addition on opening day, Twitter will deliver a matchup of two of the league's top scorers in 2020 as DeWanna Bonner and the Connecticut Sun visit Chennedy Carter and the Atlanta Dream, whose roster also features Aari McDonald, the No. 3 overall pick in the recent WNBA Draft presented by State Farm® (7:30 p.m. ET). The final game on opening day is when Facebook carries the WNBA head coaching debut of Vickie Johnson, whose Dallas Wings with 2020 leading scorer Arike Ogumbowale will be in Los Angeles to meet the Sparks, led by a pair of former All-Stars, sisters Chiney and Nneka Ogwumike (10:30 p.m. ET).
The national focus returns Saturday, May 15, with an ABC doubleheader. The spotlight will first shine on two-time league MVP Candace Parker, who will make her debut with the Chicago Sky at Washington against former MVP Elena Delle Donne and the Mystics (1 p.m. ET). Immediately following that game, ABC will turn its attention to Seattle, where reigning WNBA Finals MVP Breanna Stewart, 11-time All-Star selection Sue Bird and the defending champion Storm will receive their championship rings prior to hosting the Las Vegas Aces, led by 2020 regular-season MVP A'ja Wilson and newly acquired All-Star Chelsea Gray (3 p.m. ET).
Opening weekend wraps up with a pair of games on CBS Sports Network (CBSSN) on Sunday, May 16, as the Liberty and Fever will face each other again, this time in Indiana (2 p.m. ET), and the Mercury will visit the Connecticut Sun (7 p.m. ET).
The regular season, currently scheduled to conclude on Sunday, Sept. 19, and to be followed by a traditional playoffs and Finals format, will include a break from July 15 until Aug. 11, during which time the USA Basketball Women's National Team will be competing for its seventh consecutive Olympic gold medal.
"We have been extremely proud to collaborate with the WNBA since its inception in 1996," said Carol Stiff, ESPN vice president, programming & acquisitions, "ESPN is thrilled to continue that relationship by programming 25 games during the regular season for basketball fans in honor of the 25th anniversary of the league. We look forward to continuing our support of the WNBA's players by spotlighting both their amazing talents and their commitment to social justice on the national stage."
"We are excited to extend our partnership with the WNBA for years to come and bring high quality basketball to fans across the nation," said Dan Weinberg, Executive Vice President, Programming, CBS Sports. "The CBS Sports schedule, highlighted by two broadcast games on the CBS Television Network and three games on CBS Sports Network throughout opening weekend, will bring amazing action featuring some of the biggest names in the league to a wide audience throughout the summer. We are thrilled to be a part of the league's 25th season celebration and showcase the best players in the world on our networks."
Highlights of the Broadcast Schedule for the WNBA "25 for 25" on ESPN presented by Google
· In honor of the WNBA's 25th season and 25 years of airing WNBA games, ESPN networks – the league's longest-running broadcast partner – will present 25 telecasts over the course of the regular season, including three on ESPN, 12 on ESPN2, and an all-time high nine on ABC. ESPN also will air AT&T WNBA All-Star 2021, details of which will be announced in the near future.
· Additionally, ABC/ESPN/ESPN2 will provide coverage of up to 19 postseason games during the WNBA Playoffs presented by Google and the WNBA Finals 2021 presented by YouTube TV.
All ESPN telecasts during the regular season and postseason will stream live on the ESPN app.
In addition to airing an opening weekend doubleheader, ABC will present a second doubleheader on Saturday, June 5, featuring Las Vegas at Washington (1 p.m. ET) and the return of Candace Parker to Los Angeles as the Chicago Sky visit the Sparks (3 p.m. ET).
In honor of the WNBA's Inaugural Game in 1997, ESPN will televise a rematch of the Liberty at Sparks on Sunday, June 20 (4 p.m. ET), when Ionescu and New York visit L.A. and 2016 MVP Nneka Ogwumike.
ESPN will televise a matchup of the WNBA's career points leader, Taurasi, against the league's all-time assists leader, Bird, on Friday, July 9, when the Phoenix Mercury host the Seattle Storm (9 p.m. ET).
Playoff seeding could be on the line on the final day of the regular season, Sunday, Sept. 19, when Phoenix hosts Las Vegas on ABC (3 p.m. ET).
Highlights of the CBS Sports Telecast Schedule
The CBS Television Network and CBS Sports Network will combine to carry 40 games, including up to three on CBS Television Network, with all CBS Television Network games streaming live on Paramount+.
CBS Television Network will feature a rematch between 2020 first-round playoff opponents Connecticut and Chicago on Saturday, June 19 when the Sun visit the Sky (2 p.m. ET), and on Saturday, June 26 will spotlight the 2019 champion Washington Mystics at Dallas, against 2020 WNBA scoring leader Arike Ogunbowale and the Wings, who made history during the WNBA Draft presented by State Farm on April 15, becoming the first team in league history to make the No. 1 (Charli Collier) and No. 2 (Awak Kuier) overall selections (1 p.m. ET). Both matchups will also be streamed live on Paramount+.

Following an off-season of unprecedented player movement, CBSSN will present some of the most anticipated action when stars take the court against their former teams for the first time…
Las Vegas' Chelsea Gray, a three-time All-Star during her tenure with Los Angeles, will lace them up against her former team for the first time on Friday, May 21, when the Sparks visit the Aces (10:30 p.m. ET).
Chicago's Candace Parker, a two-time league MVP in her 13 seasons with Los Angeles, will meet her former team for the first time on Friday, May 28 when the Sky host the Sparks (8 p.m. ET).
And New York's Natasha Howard, the 2019 WNBA Defensive Player of the Year and a two-time champion with Seattle, will go up against her former team for the first time when the Storm visits the Liberty on Wednesday, Aug. 18 (7 p.m. ET).
Highlights of the NBA TV Telecast Schedule
While NBA TV will air the very first game of the season on opening day and carry a total of 35 contests, the network will place a particular focus on the race to the playoffs, delivering 29 telecasts – more than any other national carrier – when play resumes following the in-season break.
NBA TV's coverage will bracket the first part of the WNBA's 2021 schedule when the network televises the very first game of the season (Indiana at New York on May 14 at 7 p.m. ET) and the final game before the break (Minnesota at Los Angeles on July 11 at 9 p.m. ET).
Highlights of Twitter Content
Twitter's 12-game package, available via @WNBA, will feature in game commentary from basketball insiders, influencers and WNBA legends.
On Friday May 21, Twitter will deliver a matchup between the Atlanta Dream and the Indiana Fever (7 p.m. ET). Then on Tuesday, May 25, Twitter will spotlight the WNBA's two most recent No. 1 overall draft selections when 2021 top pick Charli Collier and the Wings visit the Liberty and Sabrina Ionescu, the No. 1 pick in 2020 (7 p.m. ET).
As part of the WNBA's effort to bring fans closer to live game action, game presentations on Twitter will incorporate fan tweets as an overlay, polls for fans to vote on certain elements of the game, and real-time engagements with the commentators in unique ways.
Highlights of Facebook Watch and Venues on Oculus Quest Content
Fifteen games prior to the in-season break and five when the league returns to action will be available on Facebook Watch via the WNBA Facebook page. The broadcasts will feature interactive elements that take advantage of the Facebook Watch social video platform.
These same games will be available in 2D through Venues on Oculus Quest headsets (both Quest and Quest 2).
The schedule tips off on opening night, Friday, May 14, when it carries the Dallas Wings who will be in Los Angeles to meet the Sparks (10:30 p.m. ET).
Coverage wraps up on Friday, Sept. 17, when Minnesota is at Indiana (7 p.m. ET).

A leading virtual reality platform, Oculus is an Official Marketing Partner of the WNBA and an associate partner of the WNBA's Believe in Women platform.
About the WNBA
Entering its 25th season in 2021, the WNBA is a bold, progressive basketball league that stands for the power of women. Featuring 12 teams, the W is a unique sports property that combines competition and entertainment with a commitment to diversity, equity, inclusion and social responsibility. Through its world-class athletes, the in-game fan experience, TV and digital broadcasts, digital and social content, and community outreach programs, the league celebrates and elevates the game of basketball and the culture around it.
In 2020, the WNBA and the Women's National Basketball Players Association (WNBPA) signed a groundbreaking eight-year CBA that charts a new course for women's basketball – and women's sports overall – with a focus on increased player compensation, improvements to the player experience, expanded career development opportunities and resources specifically tailored to the female professional athlete. Key elements of the agreement are supported through the league's new partnership platform, WNBA Changemakers, with AT&T, the WNBA's Marquee Partner and inaugural Changemaker, as well as fellow inaugural Changemakers Deloitte and Nike. In addition, during the 2020 season, the WNBA and WNBPA launched the WNBA Justice Movement forming the Social Justice Council with the mission of being a driving force of necessary change and continuing conversations about race and voting rights, among other important societal issues.
For more information, visit WNBA.com.
Stars of the game unveil FIBA's new Women's World Cup trophy
MAY 3, 2021
MIES (Switzerland) - The spectacular new trophy for the FIBA Women's Basketball World Cup has been unveiled, and it is one that celebrates both the rich history of the competition and today's heroes.
Using a unique approach to announce its arrival as the coveted prize for winners of the competition, top players both past and present from countries all over took to social media to inform their followers on Monday, May 3, about the new trophy.
Players from the FIBA Women's Basketball World Cup 2018 in Tenerife took part in the digital launch, as well as legends of the women's game and promising young players representing the future. A number of National Federations joined the digital celebration also.
As part of a global message to celebrate women's basketball and promote the values of diversity, unity and strength, the launch of this trophy also represents the prestige of the FIBA Women's Basketball World Cup and highlights the greatness of the many teams that have joined basketball's elite since the very first edition in 1953. With that in mind, the new trophy has unified diamonds at the base and a crown of infinite energy that flows upwards. It is crafted from gold plated sterling silver, grown over a resin composite with gloss white enamel detailing. It is a true symbol of basketball royalty.
FIBA Women's Basketball World Cup Trophy Unveiled
"We are both proud and excited to have the stars of the women's game unveil this striking new trophy today, and we also take this opportunity to celebrate women's basketball and recognize the many achievements made over the years," said Andreas Zagklis, FIBA Secretary General. "The trophy itself is a unique combination of contemporary engineering and traditional silversmith techniques and it is definitely going to be a big moment next year when it's presented to the winning team at the FIBA Women's Basketball World Cup in Australia."
The re-design of FIBA's trophies is part of the ongoing process of enhancing the brand and position of FIBA's competitions, which began in 2017. The FIBA Women's Basketball World Cup trophy echoes the iconic silhouette of the Naismith Trophy, which is presented to the winners of the men's FIBA Basketball World Cup. It also shares the signature details of the silverware for the FIBA U17 Women's Basketball World Cup and FIBA U19 Women's Basketball World Cup.
This magnificent trophy will be awarded for the first time at the FIBA Women's Basketball World Cup 2022 in Sydney, Australia, where 12 powerhouse nations across Africa, Americas, Asia, Europe and Oceania will compete from September 22 to October 1. National teams will qualify for the event via four global FIBA Women's Basketball World Cup 2022 Qualifying Tournaments in February 2022.
The trophy was conceived and designed by WORKS creative agency, which produced the physical trophy with Ottewill Silversmiths and the official launch film.